In Southern Ontario, trees face a variety of threats from insect infestations and diseases, both native and invasive. Sometimes, the symptoms of these are obvious, like blotches on leaves, holes in bark, or branches without leaves all together. However, other times tree diseases or infestations are less obvious and once these symptoms are present, it's too late for treatment.
If you want treatment for the trees on your property after a disease or infestation has begun, or if you want to prevent these situations from affecting your property, P & A can help. Keep the trees on your property free from bugs, pests, and disease with diagnosing and advice from our Certified Arborist.
Work with a Professional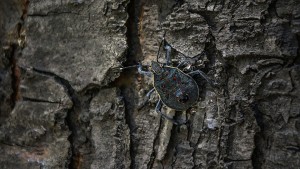 With almost 40 years in arboricuture and the tree service industry, you can be sure that our Certified Arborist at P & A has experience with a wide variety of insects and tree diseases. Whether a common disease or an invasive species, we can help you take the right course of action to keep your trees healthy, prevent future issues, and practice good long term tree care for your property.
Some of the insects and tree diseases we have experience and are qualified in diagnosing include:
Emerald Ash Borer
Gypsy Moth
Asian Long Horned Beetle
Anthracnose
Butternut Canker
Dutch Elm Disease
Tar Spot of Maple
Tent Caterpillars
Beech Bark Disease
Leaf Blotch
Dieback
Aphids
And more
Contact P & A For Insect & Tree Disease Diagnosing
If your trees' canopies are not full, bark is damaged, cavities or splits in the trunk, or hanging branches in the canopy contact P & A Urban Forestry. We can diagnose various infestations and diseases that commonly affect trees in Southern and Central Ontario. We can then provide suggestions and treatment options when available to keep your trees healthy.
For more information, contact P & A today!
416-399-4490
info@paurbanforestryconsulting.com